Travel up to 15m
​First of all, Vivalift home lifts can be installed without a load-bearing wall, in a simple plasterboard hoistway. They operate without a machine room, and without a pit (when using a ramp), or with an 8-cm pit inside or outside existing buildings.
These lifts are perfect for installations with difficult technical constraints and low traffic. This means our home lifts are ideal for buildings open to the buildings open to the public, office buildings, shops, and homes. 
Elegance, toughness and safety
The certified home lifts in the ERMHES range have been designed in compliance with the 2006-42/CE machinery directive and the EN 81-41 standard.
Therefore, Vivalift lifts are especially suited to :
Buildings under renovation subject to stringent public access regulations,
Existing private residential buildings with between 1 and 4 floors,
Private detached houses,
Public buildings: town halls, schools, etc.
In addition, the footprint is smaller than that of a conventional lift. It requires 2.6m ceiling clearance on the top floor.
Finally, the installation cost for Vivalift home lifts is to 3 to 5 times less expensive for a conventional lift.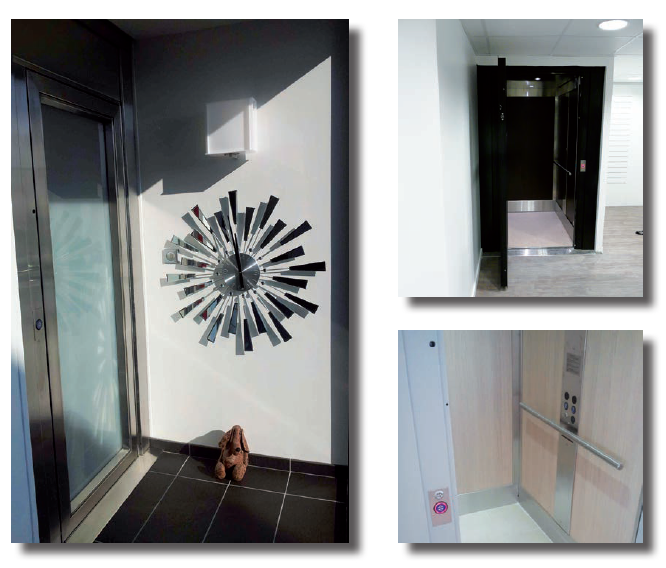 Your custom-made lift
Whatever your environment, the Vivalift steel cabin is designed to complement your architecture. You can design your own custom cabin from a range of materials specially selected by our designers.
Whatever your environment, the Vivalift home lift has been designed to minimise its footprint and the time required for the installation.
Also, thanks to its free-standing structure, the Vivalift requires no load-bearing wall, machine room, or pit. You can easily install it in a plasterboard hoistway or using a mast, indoors or out. See the page Our Achievements.
Finally, the silent electric technology in Vivalift home lifts will astonish you. Its automatic doors open especially quietly.
Vivalift

home lifts and safety

Since 1996, ERMHES has brought you the ultimate in safety.

Vivalift's system is fully compliant with safety regulations, with :
Parachute system to stop the cabin if necessary,
Overload detector,
Overspeed detector linked to the parachute device,
Battery backup in case of power failure, which allows the user to exit the lift independently of any outside help,
A light curtain at the edge of each open side protects the user from any contact with the wall.
Our Vivalift home lifts are designed in compliance with the EN 81-41 standard on the construction and installation of vertical lifts for people with reduced mobility. They also conform to the 2006/42 CE machinery directive. C.E.E. No. 0526 760D 3502 07 08 certified by CETIM.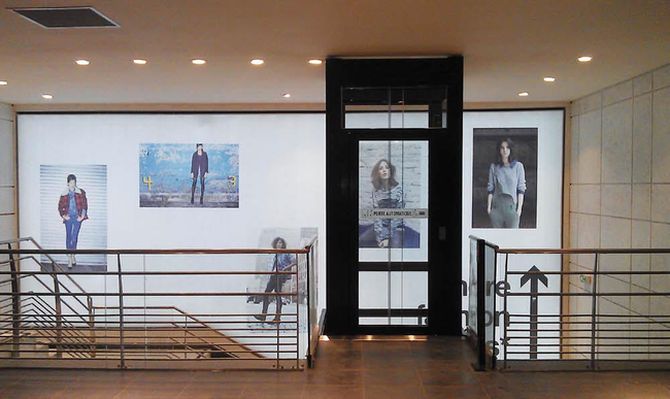 French manufacturing, installation, and maintenance.
Finish and aesthetics are the main influences when choosing the technology to use in our Vivalift home lifts.
Modern cabin with the control buttons.
Modern landing bay with invisible integrated engine.
Full-height glass or metal door (flameproof door optional).
Mast glazed on all four sides.
Electrical system with cabinet integrated into the hoistway.
Closed 2 m-high cabin.
Speed of 0.15 m/s.
Vivalift home lifts are developed and manufactured in-house at our production facility in Vitré, Brittany.
In a rapidly changing industry, where standards regularly move forward, ERMHES supports your projects and offers appropriate, affordable solutions for your safety and comfort.
After visiting the site and drawing up plans, we manufacture and install our home lifts ourselves. Our national presence enables us to meet your needs by offering an appropriate, affordable technical solution.
Your lift manufacturer and the environment.
Manufacturing lifts in France since 1996, we at ERMHES specialise in custom-built platform lifts and home lifts, developed in compliance with High Environmental Quality (HEQ) standards to minimise work site noise pollution and waste, namely :
All-electric lifts, generating no waste,
No noise; no oil or detergent products.
Re-use of packaging returned to the plant after installation,
Reduced greenhouse gas emissions through logistical transport management.
Dematerialisation of documents (quotations).
Finally, when you choose ERMHES, you are choosing a qualified professional. A manufacturer that will take all your requirements into account to offer you the best solutions for installation of your lifting apparatus, whether in your home or your business premises.
From home lifts to panoramic lifts>, platform lifts, stairlifts, goods lifts, inclined plateforms, and dumbwaiters, we offer a huge range of products.
To choose one of our creations and show how much you value your property, contact-us !