Categories: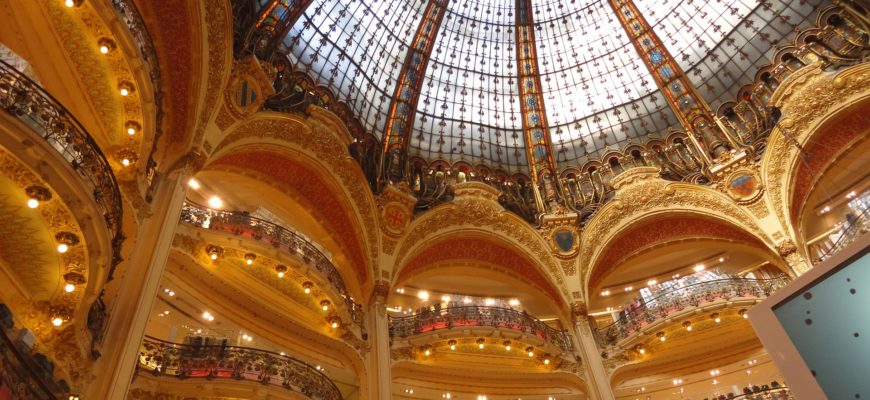 The second France's most visited monument crazy history
In 1894, Théophile Bader and Alphonse Kahn wanted to open a «novelty store» and moved to 1 La Fayette street, in a small premises of 70m². 
It extends three years later, purchasing the entire building. That's when the store takes its name from "Galeries Lafayette". 
In 1903, the 4 neighbouring buildings have been added to get an important real estate environment. 
Théophile Bader dreams of a «luxury bazaar». With the impetus of department stores, the Galeries Lafayette becomes a leisure activity in its own right, with the addition of tea rooms or reading areas. 
The shop was inaugurated in 1912 and the dome was built with the aim of flooding the large hall with light and thus making all the merchandise shine. 
Another symbol is the shop windows. Through a genuine dramatization, they highlight the products sold in the store. 
However, the store wants to democratize fashion and make it affordable to all budgets. It implements a clothing manufacture as its own brand and became the "best-selling house in Paris". 
In 1974, the main stair was demolished to give way to prestigious shops as we know today. 
The Galeries Lafayette is the France's most visited monument, after the Eiffel Tower with 37 millions visitors per year. 
A roof terrace overlooking Paris give a panoramic view over the capital. In 2018 ERMHES accessible to all this unique place installing one of its platform lifts for PWD.